Zoom recently posted a security bulletin regarding a vulnerability in their Zoom Client for all platforms (e.g. Windows, macOS, iOS, Android and Linux). As such, we are asking Zoom account holders to update their account to the latest version. The latest available version as of November 28, 2021 is 5.8.6.
To align with Information Security Standard M5 "Vulnerability Management," version 5.8.4 will be implemented on all UBC licensed Zoom accounts on December 14, 2021 at 11:59pm.
After December 14, if you are running a version older than 5.8.4, you will be asked to update the next time you log in to Zoom or the next time that you attempt to join a meeting or webinar if you are already logged in. The update must be completed before you can join.
To avoid disruptions, we strongly recommend updating your mobile and desktop accounts to the mandatory minimum version prior to December 14. If you receive a prompt to update prior to December 14, please do so. Note that the mandatory minimum version requirement will not be enforced on Zoom users external to UBC that are joining your meeting or webinar.
To check for updates, open the Zoom application on your computer (type Zoom into the search bar on the bottom left):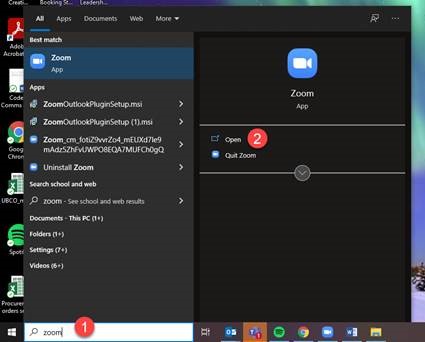 Then click on your profile name or image on the Zoom pop-up window that appears, then select "Check for Updates" from the drop down menu: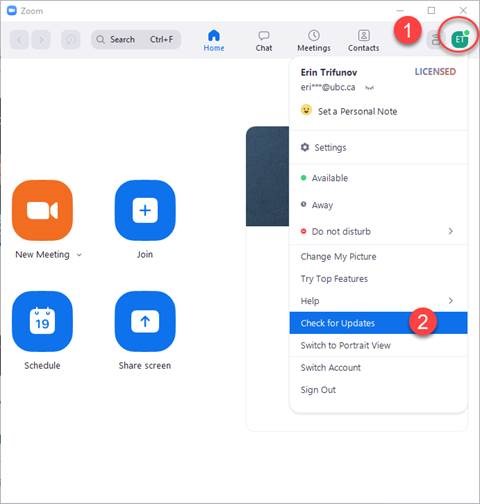 Here are some more helpful links:
Learn more about the Zoom security bulletin here under the item "ZSB-21019"
If you require further assistance with updating your client, please submit a ticket via the UBC Self-Service Portal to request AV Support.